Get Your Hands Dirty – Juicy Special Shrimp Boil Recipe
1 person meal with potato, corn, and shrimp with the Juicy Special sauce.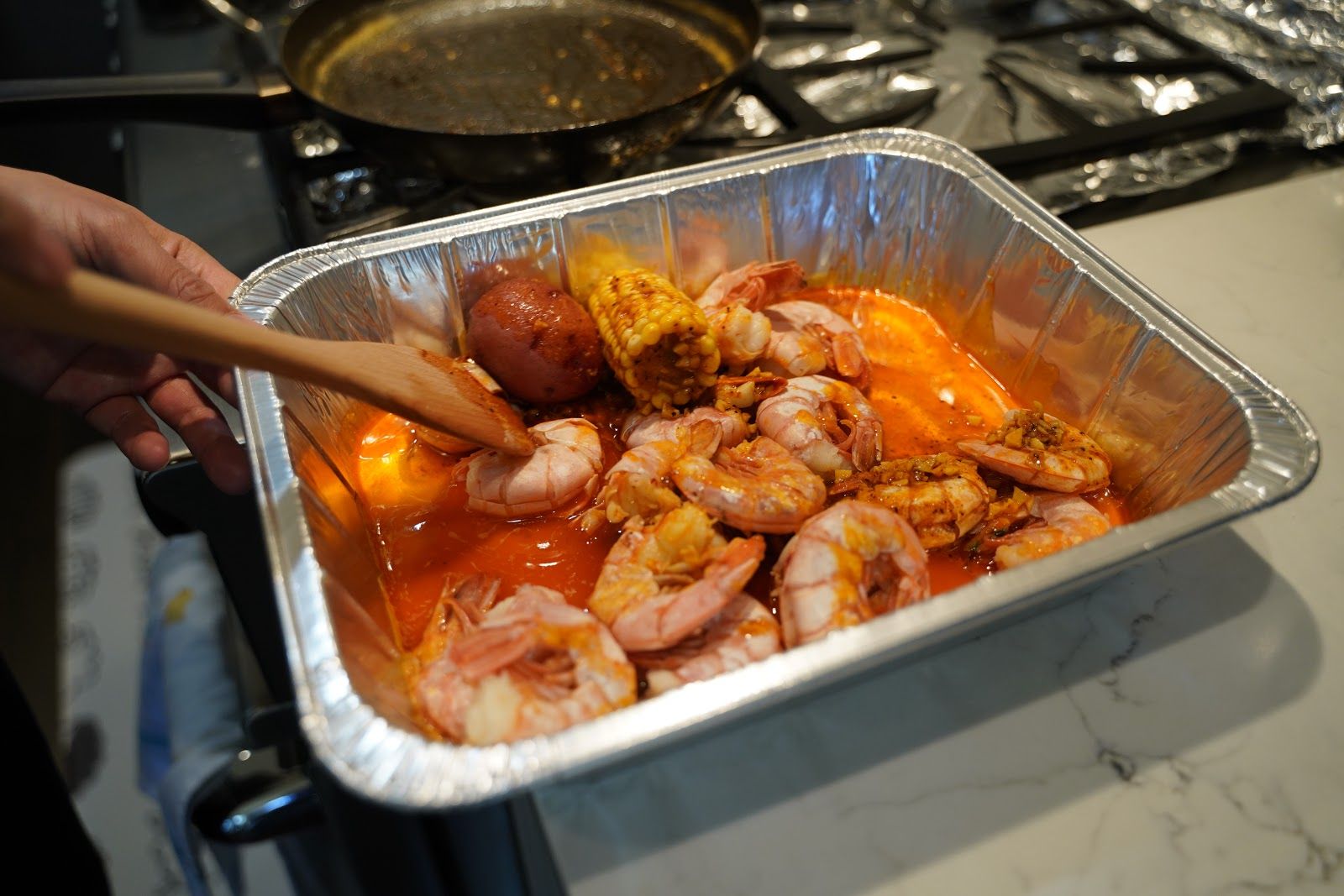 4 qts water
1 baby red potatoes left whole, or halved if large
1 ear yellow corn cut in 2 inch slices
1 lb shrimp shell on (26~30pcs Non- frozen)
1 cup of liquid margarine (2 sticks of melted margarine)
1⁄4 cup minced garlic
2 tbsp Juicy Special Seasoning
1⁄2 tbsp lemon juice
1⁄4 tsp of The Juicy Crab's Extra Hot Pepper (optional)
Instructions
Part 1 – Boiling ingredients:
Put the water in a large stock pot and bring to a boil.
Add potato and corn to the pot, cover, and let them cook for 30 to 35 minutes until chopsticks or bamboo skewers can easily pierce the potato.
Use a stainless steel strainer to take out the potato and the corn. Set aside in a plastic bag or a bowl.
Use a stainless steel mesh strainer to remove food particles in the pot and discard.
Add the shrimp to the pot and let cook for 2.5-3 minutes until they are cooked through. (big shrimp 3-4 minutes)
Use a stainless steel strainer to take out the shrimp. Set aside with the potato and the corn.
Part 2 – Preparing the Juicy Special Sauce:
Put the margarine into a pan
Melt the margarine over low heat
Add minced garlic and saute until translucent (30 seconds).
Add Juicy Special Seasoning and lemon juice
Add The Juicy Crab's Extra Hot Pepper (Optional)
Stir for 30 seconds to 1 minute to mix the the sauce well
Turn off heat
Part 3 – Enjoy
Pour the Juicy Special Sauce into the plastic bag or the bowl.
Shake or stir well until the sauce covers the food.
ENJOY your homemade Juicy Special Shrimp Boil